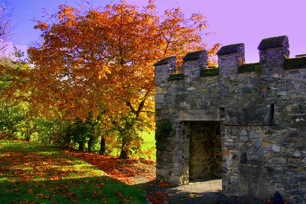 Bolton Abbey was founded from Mt St Joseph Abbey, Roscrea in 1962.





The farm and house were donated by Dr Robert Farnan who with Archbishop McQuaid desired a monastic community in the Archdiocese of Dublin.

Fr Ambrose Farrington and Br Kieran Dooley came to prepare the house for the later arrivals of the other members of the community. The foundation became officially established in 1965 and was granted the status of an independent Abbey in1977. The 50
th
anniversary being celebrated in 2015

The area in which the monastery is situated is steeped in ancient monastic tradition with former monasteries at Moone, Castledermot and Baltinglass.

The structure of the present Abbey of Bolton is based on the utmost simplicity following the tradition of the early of Cistercian Fathers. The monastery is an adaption of the original farmhouse c.1750 and the tower castle block c.1500 as well as the former stables and out buildings.

The church and heart of the monastery was purpose built with an emphasis on a balance between openness to the visitors and respect for monastic enclosure. It is a very simple and prayerful structure.

The monastery as a whole is relatively small and very basic yet sufficient to meet our present day needs.